Interspersed with the native Sedona woodland of pinyon and juniper trees are extensive landscaped beds filled with a mixture of native plants, cacti and hardy perennials adding color, fragrance, interest and habitat to the woodland. 
Bringing Color to the Native Sedona Woodland...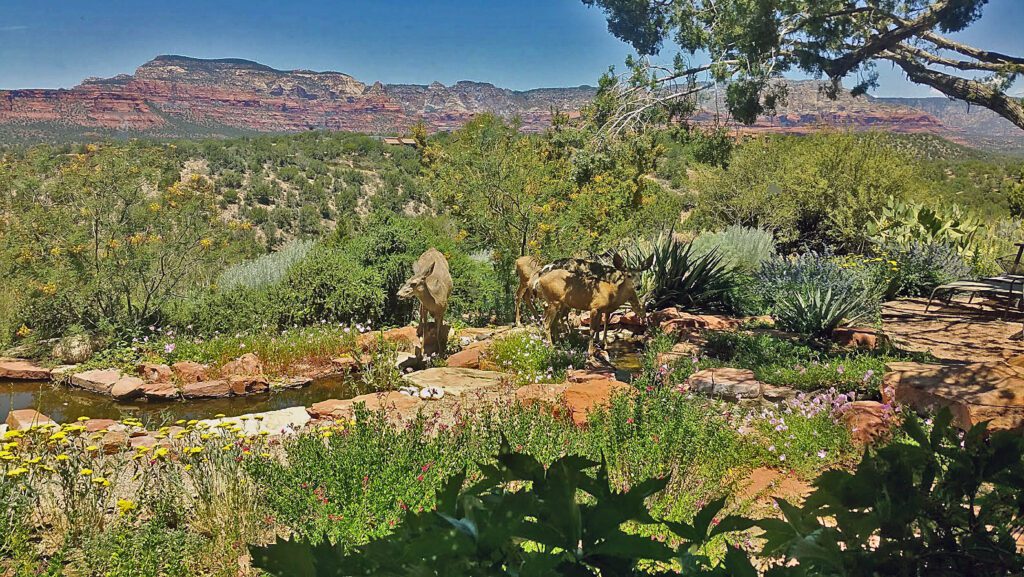 The landscaped grounds combine vegetation native to Sedona's woodland with hardy perennials that provide seasonal color and attract lots of bees, butterflies, hummingbirds...and other wildlife!
...and beautiful foreground to the Red Rocks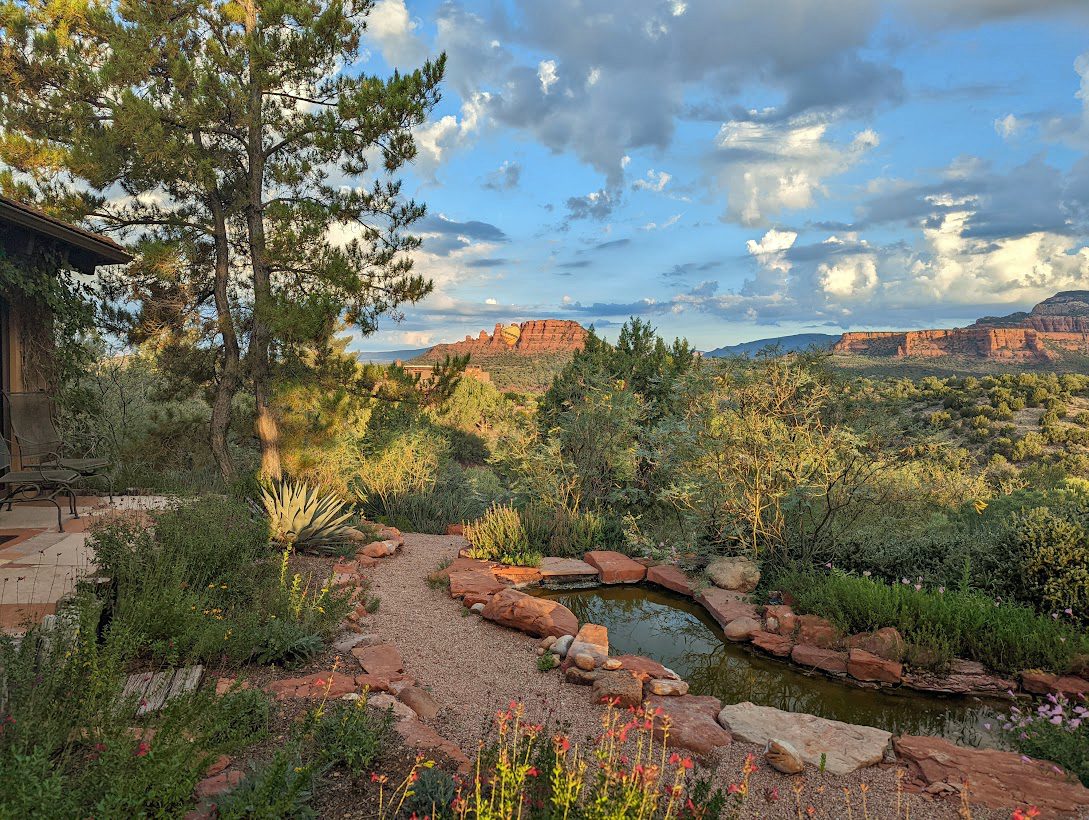 The sweeping grandeur of Red Rock Country is best experienced amid Talahogan's grounds where the hilltop's spectacular views are enhanced by colorful, fragrant vegetation, flowing water, and sounds and activities of local wildlife.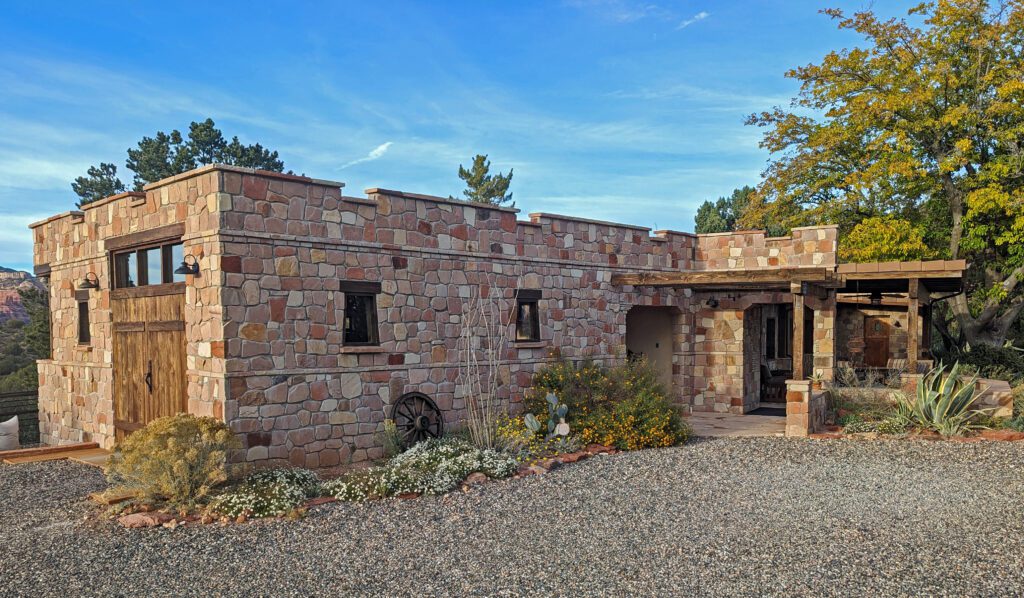 Landscaped beds add seasonal color, texture, interest and softness to Talahogan's stone façade.  Native plants do best in beds with a southern exposure, like here at the entranceway--Rabbit brush, Blackfoot daisies, ocotillo, Russian sage, Mt. Lemmon marigolds, variegated agaves, etc.  They can all take the strong summer sun.  Nine drip irrigation lines keep plants healthy while conserving precious water.    
...and blending with the natural landscape Beyond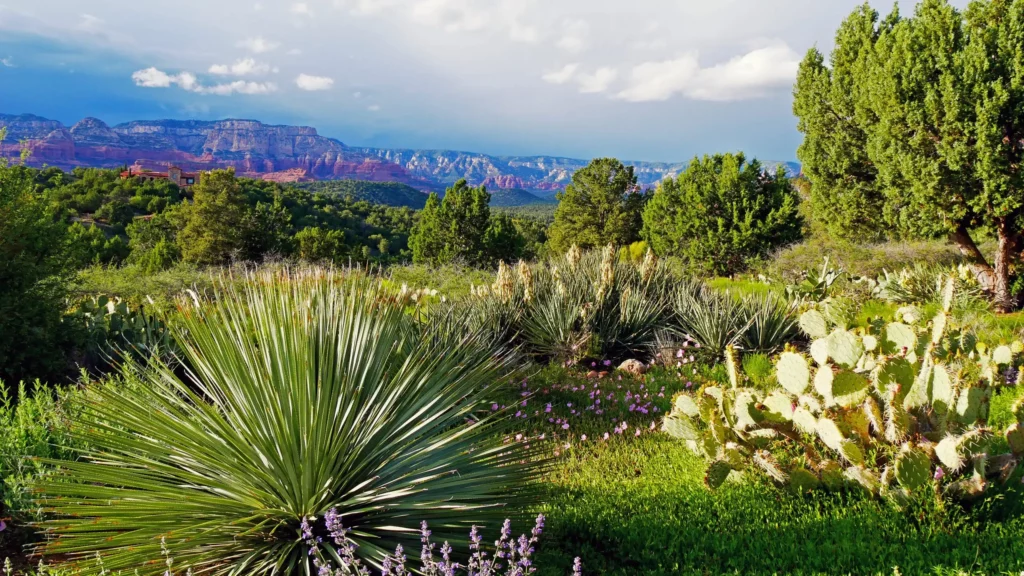 The unfenced landscaped grounds connect seamlessly with the natural woodland beyond.  Catmint and primrose grow among the desert spoons, prickly pear and banana yucca as the grounds give way to Sedona's native pinyon-juniper woodland.  In the distance, monsoon clouds form over the Mogollon Rim in advance of a welcome summer downpour.