Talahogan is Navajo for "house on hill."  The simple, straightforward name makes clear what make this property so extraordinary--its exceptional hilltop site! The high, narrow hill is located on Sedona's far west side bordering the Coconino National Forest.  Straddling both sides of the hill, the 2.5 acre property has a commanding view of much of Red Rock Country.  The sweeping, unobstructed 360 Red Rock panoramas are truly breathtaking! 
From this hilltop there are expansive vistas in virtually every direction.  On the one side, the full sweep of the western and northern reaches of Red Rock Country in the national forest land--from the Wilderness Area to the 2000 ft uplift of the Mogollon Rim.  From the other hillside, a stunning, seamless panorama of Sedona's entire eastern and southern horizons--from the commanding dome of Thunder Mountain all the way around to iconic Cathedral, Bell and Courthouse Rocks on the far side of Red Rock Country.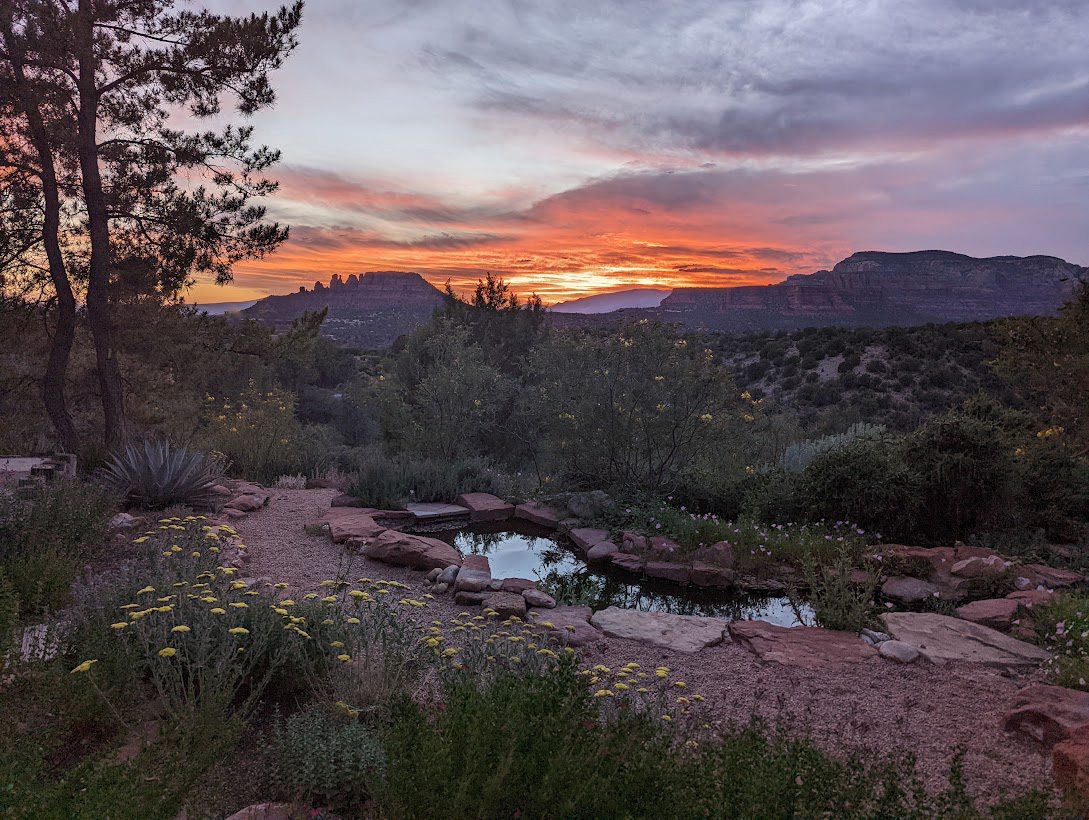 The hilltop offers not only spectacular Sedona panoramas but also deep tranquility. The property, extending down both sides of the hill, is located along a dead-end improved dirt road in one of Sedona's last havens of limited development. Miles from the high energy of Sedona's uptown commercial and tourist center, the hilltop and its environs provide an oasis of peacefulness in a country setting where wildlife abounds. And the acreage provides spacious privacy.

Much of the property is beautifully landscaped with winding paths, ponds, streams and large beds.  From March into November, the garden delights with the colors and pungent fragrances of native vegetation and high country perennials.  And in the background, the peaceful sound of running water.  The colors, smells and life of the grounds provide a beautiful, natural, restful setting in which to savor deeply the magnificence of the surrounding Red Rock creation.